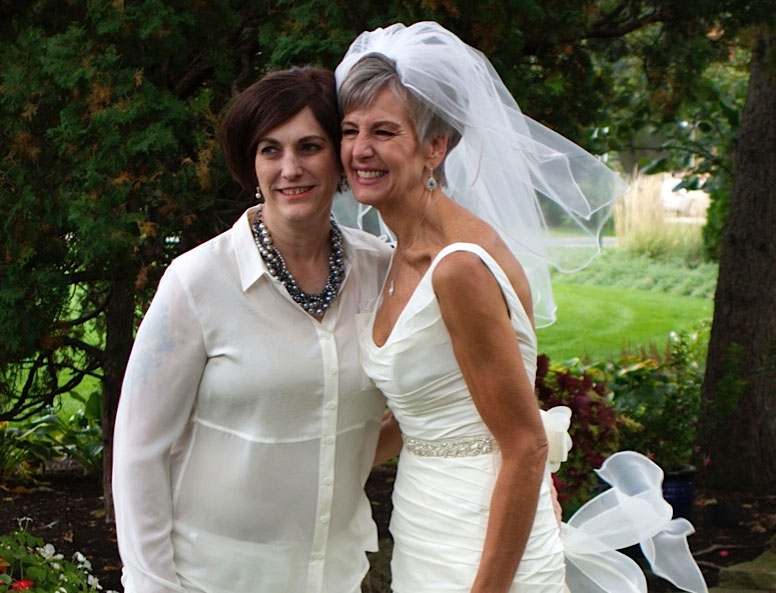 Photo © EMC Photography
If your relationship was a movie or a poem, which one would it be and why? Tell us some of the qualities you love most about each other!
It's hard to say.... We're celebrating 37 years this fall, so many different movies could apply!!
The thing that has made this work so long is that we never quit on each other. We are there for the other and even though we can make each other insane, the love is deep. Couldn't imagine anyone else to have taken this journey with.
Have you picked out engagement or wedding jewelry? How did you decide on a particular style?
We used our same original rings
Where will your wedding and reception be held? What kind of rituals will you include? Decor highlights? Are you considering including a Rainbow Theme? (if you're already married, please adapt the question/s accordingly)
We chose a local park and Community Center in a small town. We didn't add to the decor they already had, we did add a photo from our Holy Union, that nostalgia was fun. We added navy tablecloths, made floral centerpieces, kept things simple. Our daughters were our attendants, and it was a huge MUST for us.
What are you most looking forward to, about your Wedding Day?
The PARTY!!! It was so great seeing our friends and family in the same place at the same time!!
Will family and friends be included in your ceremony?
We each had a daughter walk us down the aisle and serve as our "best person".
What are some of the big plans for your future together?
We recently became Grandparents, so this is a fun time and a new journey!!
Favorite Quote or Words of Inspiration?
I wrote in my vows, ...."I promise to always love you, even if I don't always like you."