Since 2000... Your Trusted LGBTQ+ Wedding Resource!
Bridging vendors like you to the LGBTQ+ Wedding Market!
Launched in September 2000, RainbowWeddingNetwork.com™ has been at the forefront in providing unique and vital wedding resources to the gay, lesbian, bisexual, queer and transgender community.
RainbowWeddingNetwork.com serves as the bridge for businesses to reach out to this community, and to tap into this vital niche market that is over 19 million strong.
RainbowWeddingNetwork.com has assisted over 10,000 businesses and counting, through a diverse range of marketing portals.  We offer the means to brand your business to this lucrative and exciting niche market, through Online Storefronts, Social Media Outlets, Web Campaigns, E-Blasts and participation in our ongoing national tour of Same Love, Same Rights™ LGBTQ+ Wedding Expos.
Welcome to Rainbow Wedding Network!
Photo by Nicole Friedler, MA
LGBTQ+ Wedding Expos
Meet New Couples in Your Hometown!
RainbowWeddingNetwork is also the nation's leading producer of LGBTQ+ Wedding Expos. Since 2003 we have produced over 285 Same Love, Same Rights events in 37 different states across the USA. The events have a reputation of blending Elegance, Joy and a Sense of Community concerning the issues of marriage & family rights.

More Unique & Personal Than A Trade Show... Streamlined, convenient and highly productive, our innovative events offer vendors like you the opportunity to connect with qualified LGBTQ+ couples who are actively in the planning stages of their weddings, honeymoons, and committed lives together. You'll have the chance to mingle and connect with couples in a casual atmosphere that promotes quality conversations that lead to solid bookings.

Join Us!  If you are a wedding professional, or part of an organization that supports the LGBTQ+ minority, you'll find engaging opportunities to connect with new, well-qualified couples and to network with other likeminded wedding, family & home-related business professionals in your area. An experience at one of our LGBTQ+ Virtual Wedding Expos always promises productivity and a true sense of celebration!
Standard Exhibitor Booth rates start at just $265
Multi-event Packages, Sponsorships & other opportunities also available.
Online Storefront
Creating Your Own Customized Presence
with RainbowWeddingNetwork.com!
Established in the Fall of 2000, our nationwide Online Directory offers LGBTQ+ friendly companies like yours an easy and direct bridge to gay & lesbian couples who are actively planning their weddings and their lives together.  With traffic averaging 25,000 hits per day, and 90% of that traffic viewing the Directory, Rainbow Wedding Network (RWN) is a powerful & affordable way for your company to brand itself to this exciting niche market with the comprehensive presence of an active Online Storefront.
Features of RWN's Online Storefronts include:  Unlimited Description, Social Media Integration, Traffic Statistics, Photo Gallery, Zip Code & Key Word Search and Competitive Rates that make it realistically affordable to reach out to LGBTQ+ couples...  immediately!
Additional Exposure is also available through RainbowWeddingNetwork's Social Media Outlets, Web Campaigns, E-Blasts & more.  Contact us for further details; we're happy to customize a package just for you!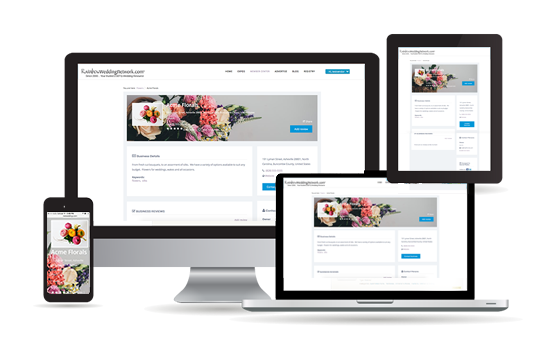 What Sets Us Apart?
It's simple, really...

RainbowWeddingNetwork.com (RWN) and our sister campaign SameLoveSameRights.com have been in existence since September 2000. Our founders & staff have been witnesses to and, in some ways, an active part of the creation of the LGBTQ+ Wedding Market as an established industry. Through RWN's ongoing tour of LGBTQ+ Wedding Expos, we personally meet thousands of couples every year, and dialogue with hundreds more by phone & email, and every day we interact with wedding professionals all across the country.

RainbowWeddingNetwork.com has been more than a website: to us, it's a Calling and a Framework for Connecting People.

Over the years, we have developed broad marketing experience, an organic understanding of the LGBTQ+ wedding niche, and we realize that business professionals want to tap in to this market directly and with ease. They want to support Equality AND grow their own business. That simply makes sense.

So, our advertising options are, just that, Simple: We help business professionals like you access & book new clients with an Online Presence or in person at our LGBTQ+ Wedding Expos.

Let us help you build new connections.
Target New Clients
Build your Online Storefront in just a few steps, or choose to participate as an exhibitor or gift bag vendor at one of our LGBTQ Wedding Expos.
Easy!
All Devices, 24/7
Our freshly updated website offers a clutter-free browsing experience, on any device, at anytime. This helps ensure that couples can quickly access your information and contact you with as few clicks as possible.
"Our menu options have recently changed..." Not here. We have a small dedicated staff to help, should you have questions or a technical issue. And in the rare instance you must leave a voicemail a real person will contact you within one business day to follow up.