Planning a wedding isn't easy, to say the least. Between picking a venue, dealing with the caterer, and trying to impress your guests anything that helps simplify the planning process can make life just a little easier.

While you've been frantically searching for ideas and tips, we've put together a life line of sorts. A list of ideas that range from fall weddings to general decor. Compiled below are 27 ideas to help you create an amazing and unique reception. 

____________
 
During the fall season, it's hard not to feel those cozy vibes. A rustic atmosphere full of cozy warmth and a laid-back feel pairs so well with fall. Whether you have an upcoming wedding or are just looking for preliminary ideas, in this section you'll find elegant ways of creating comfortable fall atmosphere.
 
1.  Roaring Fires
 
An outdoor wedding in the fall can get quite chilly at night. Light the night sky and warm guests by adding fires to your outdoor rustic wedding during the colder months. Keep reading to see how a fire can add an elegant touch while keeping with the rustic feel.
 
2.    Illuminate the Sky
 
If you want to go more upscale for your rustic or fall wedding, there are many options for illumination that pair well. You can hang crystal chandeliers from the ceiling of a barn to make for an elegant ambiance.
 
While chandeliers can add an elegant touch, not everyone will want to go for something so, well, big (or have your reception in a barn for that matter.) Consider hanging café lights on the ceiling or in trees for a less formal touch.

Hanging lanterns are another lighting option, and these add a particular flair no matter what kind of venue you've chosen. While traditional lanterns will add to a rustic vibe, and café lights add more to the industrial or vintage look, paper lanterns are great for creating either a playful, relaxed atmosphere… or, depending on the style of the lanterns, an elegant feel that is artistic and trendy.
 
 
3. Warm and Cozy
 
Whether or not there are roaring fires (but you totally should), consider creating a comfortable and cozy place for guests to sit. The fall weather will inspire them to wish for a casual spot to relax, mingle, chat and feel the warmth from the inside-out.  Use pillows, outdoor furniture and fluffed blankets in case it gets chilly out. This gives guests a place to unwind and relax from the party plus the blankets can double as a great keepsake gift!
 
4. Wood Ladder
 
Using tattered wood ladders is a great way to decorate while keeping with your rustic or fall theme. They can be used to display photos, guests' escort cards, seating cards, small quilts, or simply decorated with flowers.

5. Fall Colors
 
Especially when fall is upon us, nature can be incredible at guiding the color scheme for a reception. BBJ Linen has some beautiful rustic ideas including using Earth tones from the surrounding landscape combined with a natural wood look for tables and chairs.

From pumpkins and other organic oranges, to hazelnut browns, bronze, deep organic reds and muted sunflower yellow… the range of colors that are available to accent your gathering are varied and rich.  -Including seasonal colors is a simple way to bring a fullness and sense of connection to your celebration.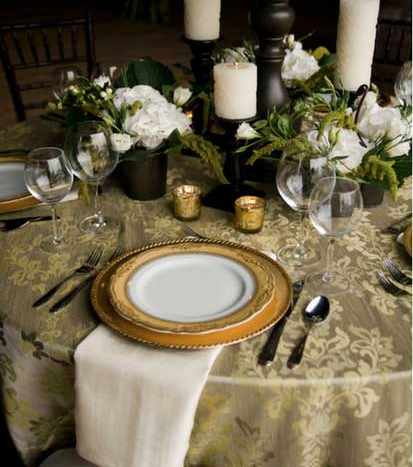 Sash & Bow – Shanna Allen Photo


6.  Hayrides and Halloween
 
There's nothing more fall than pumpkins, apples, barrels and bales of hay. Large bales of hay make a great addition to any rustic or fall wedding and can double as a place for guests to sit. Barrels provide a fun hi-top table, or a decorative piece on which to set florals or your delightful wedding cake.  Uncarved pumpkins, squash and apples add a great fall vibe too, but don't use carved pumpkins as it'll make your reception look like a place to trick-or-treat!
 
 
7. Seating
 
Whether you're going for a rustic feel or a laid-back fall vibe, long farm-style tables create a more informal feel than round tables. This encourages a more casual atmosphere. If you're outdoors or at a rustic setting, like a barn, long tables will keep with the overall theme of the reception.  Be sure to chat with your caterer about homestyle options that retain a sense of elegance but keep theme with the rustic as well!
 
8. Tapestry
 
Hanging tapestry or quilts will not only add to a cozy atmosphere or rustic vibe, but it can double as a way to display guests' seating assignments. Check out The Lesser Bear for elegant hand-made tapestries.
 
9. Glassware
 
Ditch the formal long-stem wine glasses and opt for something that matches your casual autumn theme. You can be creative as there are many options to choose from. Glassware suggestions include using canning jars, mugs and old jelly jars for serving drinks.  Wrap them with a piece of burlap or quilted fabric – you can then pin nametags or a keepsake to the jar for an added touch.
 
10. Guest Book
 
Definitely opt to get creative with your guest book! It's something you'll keep forever and the more interactive the process, the more meaningful the messages that your guests will be inspired to write. A large wood framed canvas can add some fun, especially for a rustic wedding. Check out Flutterbye Prints for some framed guest book ideas.
 
11. Crates
 
Wooden crates are a great addition to any fall wedding. They can be used as a decoration, filled with florals or with personal items such as blankets, or brimming with apples both for display and for tempting your guests for a snacking option. They also can be used to display escort cards or a creative way to display guests' wedding favors.
 
12. Hanging & Displaying Greenery
 
Whether it's too cold or you're not wanting to risk poor weather at an outdoor wedding, you can bring the fall foliage inside. Hang pine, fall leaves and other greenery to create a rustic, fall look for an indoor reception. You can use existing structures at your venue or find creative ways to decorate your space with greenery-such as adding greenery to hanging lights, decorating ladders, barrels or crates (as mentioned above)… or keep things simple by using canning jars as vases at each table, filled with fall foliage and greens.
 
13. Large Letters
 
Oversized letters with a wooden finish are a trendy decorative addition. They are great as accent pieces such as displaying fun combinations of you and your partner's initials or newly chosen last name… or being used to designate certain areas such as the bar or the dance floor.
 
 
Tantalizing Tips for any Time of the Year
 
While fall weddings seem to be gaining popularity, whether it's due to the wildly colorful foliage or crazes for more casual wear and coffee bars with pumpkin spice, every season has something unique to offer for a wedding. No matter if it's spring, summer, fall or winter, these next tips can help you create a beautiful reception.
 
14. Table Runners
 
Whether with, or in lieu of tablecloths, consider using table runners to add some romantic décor to the table. Depending on the theme, the color you choose can add a nice accent to compliment the reception. Texture is also a trendy part of table décor these days!  …and table runners come in all kinds of different fabrics.  Just by adding these simple accents, you can change the entire ambience of your reception tables, so don't underestimate this exciting (yet easy!) feature.

15. Display Photos
 
Guests truly enjoy having the chance to see all the love that has led up to Your Special Day. Explore a variety of creative ways to display photos of you and your partner… and even some of your families and friends – guests also will love to find themselves featured in your special montage!  Digital frames allow for a seemingly endless array of images, or there are a variety of artistic display ideas as well.
 
16. Upgraded Table Numbers
 
There are creative ways to display table number or names that blend well with whatever theme you go with. Consider using personalized bottles of craft beer, flags in mason jars, photo markers, tag trees, or almost anything you want! Check out Save on Crafts for some trendy ideas.
 
17. Photo Booth
 
Create a backdrop that adds to the décor of your reception, but still makes for festive and unique photos. Companies that rent out photo booths can help you create the perfect backdrop and fun activity for guests.  There are many options these days as far as interactive photo booth experiences go, so be sure to shop around and ask lots of questions!
 
18. Focus on Flowers
 
Flowers are a timeless addition to any wedding. A simple and easy way to make your centerpieces stand out is to use tall vases for flower arrangements. Believe it or not, height is one quick way to add to the design scheme of your reception!  Then of course there are the other wonderful elements to consider when it comes to options with florals:  color choices, the style of flowers (wildflowers add that sense of charm, while deep red roses say "Classic Love" at a glance!)…  Accents with regard to how your florals are presented or displayed…  Check out Sweet Blossoms for some great ideas on how to make your flower arrangements pop.  And be sure to take into consideration what will happen with your florals after your party is over:  will you take them all home?  Will you give some away?  Will you donate them?  Planning ahead will save you time in the long run!
 
19. Balloons
 
Balloons can add a festive touch without breaking the bank. They can be used to create backdrops, arches, non-floral displays, signage, add a fun flair to formal weddings or help create a laid-back vibe. Consider Shop at Nyeas for balloon related ideas.
 
20. Sugar Rush
 
Who doesn't love dessert? Better yet who doesn't love candy? Whether with, or in lieu of, a cake, consider a buffet of candy for guests to enjoy. We're Sweet for You can help you create a candy display that also doubles as a party favor. Simply provide some colorful or customized bags for the road… and you're all set with the keepsakes for your guests!
 
21. Elegant Drapery
 
Hanging drapery or fabrics can add an elegant, sweeping or colorful touch to your wedding reception. They can be used to cover up unimpressive walls or add glorious accents to the ceilings. With uplighting, fabric backdrops can shine, sparkle, alternate hues, spotlight monograms or signage and more…  Check out Event Drape Rental for more info!
 
22. Make Your Wedding Sparkle
 
If part of your wedding can be outside or your wedding reception is outdoors, using sparklers is not only a fun activity for guests, but can create magical photos that will last a lifetime. Take a look at Grand Wedding Exit to see what fun their sparklers can add to your festivities.
 
23. Cup Your Cake and Personalize the H&%@ out of it
 
Many couples are opting for cupcakes instead of a large, single wedding cake. Cupcakes allow you to create beautiful displays and offer up multiple flavors to please every guest. Our CupCakery offers cupcakes in all sorts of sizes, flavors and can account for various dietary restrictions.  And a great keepsake idea?  Cake in a jar, (a personalized jar to commemorate the Special Day!), with a lid and ready to go!  Guests can even pick and choose from various flavors to add to the fun!
 
24. Flowers from Above
 
Although we've already discussed hanging greenery, you can use the same creative ideas to hang flowers from a ceiling. Enchanting!  You can also decorate existing structures or hang potted centerpieces instead of or in addition to tabletop florals.  The wow factor, exponential!
 
25. Chalkboards
 
Chalkboards can be used throughout your reception to create a different look that your guests might not be expecting. Chalkboards can be used to designate a gift table, used as a welcome sign or as a menu at the bar.  Your calligrapher or invitation specialist may be able to help with beautiful lettering and colors to make the most of this fun and versatile idea.
 
26. Tie a Knot
 
Ribbons can be a great, low-cost way of adding to your decorations. Ribbons can be used instead of chair covers as well, offering some savings while keeping your reception looking elegant. Believe it or not, the array of styles and textures available in ribbon these days is amazing.  Check out the options online or in your local craft store for inspiration!
 
27. Bunting
 
Bunting, long strings of triangular shaped flags, is becoming more popular these days. It's relatively inexpensive and has a variety of uses. It adds a festive flair to a vintage wedding or adds to the laid-back feel of an outdoor fall wedding.

While a wedding is all about celebrating the love of two people, who have decided to come together and commit to a life-long relationship, of course you also want to enjoy a setting that provides a beautiful backdrop to Your Special Day.  Whether modest or epic, the décor that you choose can add that much more to the uniqueness of your wedding day.  Make the most of the occasion, get creative, and have fun with it!