Last Updated on Friday, 26 June 2015 10:10
Hits: 1106
Last Updated on Tuesday, 23 June 2015 15:37
Hits: 1051
NC Legislature Overrides Governor McCrory's Veto of Mean-Spirited Public Official "Opt-Out" Legislation

WASHINGTON, article courtesy The Human Rights Campaign – Today, by a vote of 69-41, the North Carolina House of Representatives voted to override Governor Pat McCrory's veto of SB 2 - a needless and mean-spirited law allowing "magistrates, assistant registers of deeds, and deputy registers of deeds to recuse themselves from performing duties related to marriage ceremonies due to sincerely held religious objections."

Marty Rouse, National Field Director for the Human Rights Campaign (HRC), the nation's largest lesbian, gay, bisexual, and transgender (LGBT) civil rights organization, issued the following statement:

"It is tremendously disappointing that the legislature chose to override Governor McCrory's veto of this misguided and mean-spirited legislation. Allowing public officials the ability to opt-out of the job they are paid by the public to do is completely contrary to the purpose of public service and should have no place in North Carolina law."

The Human Rights Campaign is America's largest civil rights organization working to achieve lesbian, gay, bisexual and transgender equality. HRC envisions a world where LGBT people are embraced as full members of society at home, at work and in every community.
Last Updated on Thursday, 11 June 2015 12:17
Hits: 1162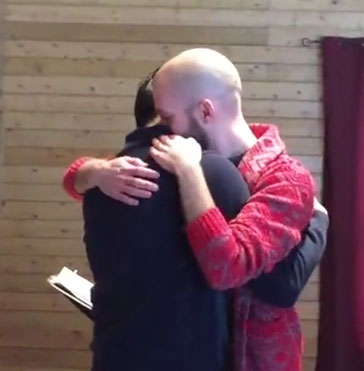 Congrats to Braeden & Ryan, on their recent engagement!  Enjoy their heartfelt proposal via the link below!
Last Updated on Monday, 08 June 2015 14:53
Hits: 1000
Remember the film??  'Harold and Maude' is the companion novel to the 1971 American dark romantic comedy and cult favorite of the same name. Colin Higgins wrote the novel shortly after the release of his film, and it has remained popular ever since. Chicago Review Press is pleased to be releasing the latest edition of Higgins' cherished story, with a revitalized and fresh cover that will appeal to a new generation of audiences.
In August of 1988, shortly after his 47th birthday, Colin Higgins passed away from AIDS related illnesses. His legacies, however, will be lasting. The publisher is excited to announce that the book's royalties will go to the Colin Higgins Foundation, the organization Higgins established in 1986 to further his humanitarian goals and to carry out his vision of creating a better world. The Foundation supports numerous LGBTQ organizations, ranging from the Gay, Lesbian and Straight Education Network to youth outreach and AIDS prevention programs. Since 1993, the Foundation has awarded more than 341 grants totaling more than three million dollars. Colin Higgins will long be remembered, not just for his heart-warming work, but also for his extraordinary humanity.
For more information about the foundation and the new book, visit:
http://www.colinhiggins.org/
Last Updated on Thursday, 28 May 2015 11:33
Hits: 1127