Many of the businesses who list in our Online Directory here at www.RainbowWeddingNetwork.com, or exhibit at our LGBT Wedding Expos, have supported marriage equality for years, even decades. And some of the wedding professionals who work with us are gay or lesbian themselves, and have experienced firsthand or witnessed directly the effects of inequality and discrimination.
One of our favorite New York-based photographers, Steven Rosen, is one such wedding professional. His story is very moving, and the journey he has chosen over the past twenty years as an individual and as a photographer, is powerful and inspiring. We invite you to read the recent article with CNN, in which Steven was featured.
Our sincere congratulations, Steven! Kudos!
http://www.cnn.com/2015/07/24/us/same-sex-couples-celebrate-vows-across-nation/index.html

For additional information about Steven and his photography:
www.stevenrosenphotography.com
Last Updated on Thursday, 30 July 2015 23:37
Hits: 1051
Last Updated on Friday, 26 June 2015 10:10
Hits: 1020
Last Updated on Tuesday, 23 June 2015 15:37
Hits: 985
NC Legislature Overrides Governor McCrory's Veto of Mean-Spirited Public Official "Opt-Out" Legislation

WASHINGTON, article courtesy The Human Rights Campaign – Today, by a vote of 69-41, the North Carolina House of Representatives voted to override Governor Pat McCrory's veto of SB 2 - a needless and mean-spirited law allowing "magistrates, assistant registers of deeds, and deputy registers of deeds to recuse themselves from performing duties related to marriage ceremonies due to sincerely held religious objections."

Marty Rouse, National Field Director for the Human Rights Campaign (HRC), the nation's largest lesbian, gay, bisexual, and transgender (LGBT) civil rights organization, issued the following statement:

"It is tremendously disappointing that the legislature chose to override Governor McCrory's veto of this misguided and mean-spirited legislation. Allowing public officials the ability to opt-out of the job they are paid by the public to do is completely contrary to the purpose of public service and should have no place in North Carolina law."

The Human Rights Campaign is America's largest civil rights organization working to achieve lesbian, gay, bisexual and transgender equality. HRC envisions a world where LGBT people are embraced as full members of society at home, at work and in every community.
Last Updated on Thursday, 11 June 2015 12:17
Hits: 1089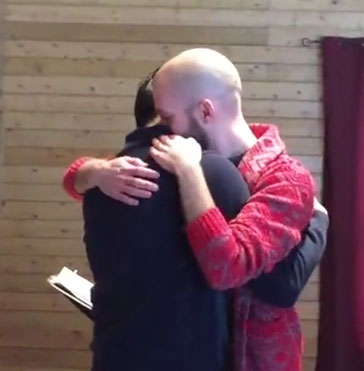 Congrats to Braeden & Ryan, on their recent engagement!  Enjoy their heartfelt proposal via the link below!
Last Updated on Monday, 08 June 2015 14:53
Hits: 927