Here at www.RainbowWeddingNetwork.com, we are excited to finally begin broadcasting our own podcast! This has been a long-term dream of RWN co-founder Cindy Sproul: to offer another helpful resource to our LGBT brides and grooms, as well as wedding and home-related business professionals who wish to serve our couples. The podcast is a convenient & fun way to listen to various ceremony planning tips and ideas, as well as insights from our team about the LGBT wedding industry and current events regarding family and marriage equality. We hope you'll listen in!
http://www.rainbowweddingnetwork.com/podcasts
Last Updated on Tuesday, 17 November 2015 13:53
Hits: 993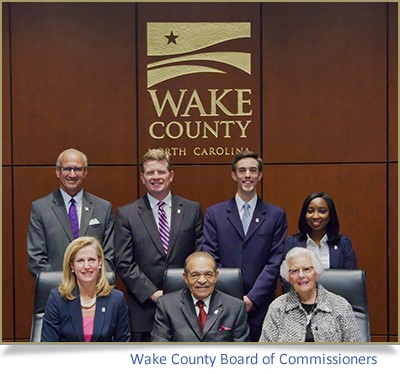 On Monday, September 21, 2015, the Wake County Board of Commissioners voted unanimously to add sexual orientation, gender identity and gender expression to its anti-discrimination policy.
The county has practiced equal employment opportunity for some time already, according to Commissioner John Burns, and the County's updated Equal Employment Opportunity Ordinance enshrines protections for LGBT workers and job applicants into law.
The ordinance contains the following language: "Discrimination against applicants to and employees of Wake County Government in hiring, promotion, discharge, pay, fringe benefits, job training, classification, referral, and other aspects of employment on the basis of race, color, religion, sex (including pregnancy and wages), national origin, age, disability, genetics, veteran status, sexual orientation, gender identity or expression, family status or political affiliation is prohibited."
---
Today, I am happy to vote yes on a new Equal Employment Opportunity ordinance that will put Wake County's longstanding practice into law and ban discrimination against county applicants and employees. This is an important step for Wake County, and I am proud to play a role in making it happen. … John Burns – Wake County Commissioner Facebook page
__
Wake County is the fourth county in North Carolina to adopt an GLBT non-discrimination policy, along with Buncombe, Durham and Mecklenburg Counties. The cities of Asheville, Boone, Chapel Hill, Carrboro, Charlotte, High Point and Raleigh also have non-discrimination laws for GLBT workers on their books.
The ACLU of North Carolina reports that 71 percent of North Carolina voters believe employers should not be able to discriminate against employees based on their sexual orientation, according to a Public Policy Polling survey.
"Employers know that part of attracting and retaining the best employees is offering a workplace that is fair, where qualified individuals are not discriminated against based on characteristics unrelated to the job," said Susanna Birdsong, Policy Counsel for the American Civil Liberties Union (ACLU) of North Carolina.
"The sad reality is, despite overwhelming public support for protecting GLBT workers in North Carolina, it is still legal to fire or refuse to hire someone because of their sexual orientation in much of our state. We urge the General Assembly and other local governments across the state to pass comprehensive employment protections for GLBT workers."
__________
Our thanks to the Raleigh GLBT Report for sharing this important news!
RaleighGLBTReport@att.net
Last Updated on Tuesday, 22 September 2015 11:10
Hits: 1224
Over the years, Marc Choyt with Reflective Images Jewelry has been an active member of www.RainbowWeddingNetwork.com. He's offered his jewelry expertise through various articles on our website, and has offered his skills as a jewelry professional to LGBT couples throughout the country.
Recently, Marc's company has been named the first certified Fairtrade Gold Jeweler in the United States - an honor worth celebrating! As many gay and lesbian grooms and brides strive for the utmost authenticity within their ceremonies and receptions, this is one sure way to rest assured that the engagement and wedding rings are created with the highest standards.
"Reflective Images Jewelry has shown great leadership in becoming the first jeweler using Fairtrade gold in the USA. This move in the world's largest jewelry market has the potential to send ripple effects across the globe," said Harriet Lamb, CEO of Fairtrade International. "Americans buying that special piece of jewelry can now help make a change in the lives of artisanal and small-scale miners. These miners urgently need improved terms of trade and we congratulate Reflective Images Jewelry on setting the pace for the industry in the way jewelry is sourced," she said.

"With Reflective Images Jewelry bringing Fairtrade Gold to the North American market, we are expanding the Fairtrade and organic movement and sourcing trends to include the mining sector,"said Marc Choyt, President of Reflective Images Jewelry. "The antidote to the disconnect between jewelry's sourcing and symbolism is to create a new cultural narrative that actually connects customers to producer communities. There is increasing attention to the source and production ethics of food and clothing. Similarly, Fairtrade gold greatly enhances the value of our custom handmade jewelry to our customers through the relationships it creates," he added.

Choyt has dedicated much of his time in the last ten years as an activist in the jewelry sector, educating clients and colleagues through Fair Jewelry Action, an environmental justice and human rights network which he co-founded. At his home in Santa Fe, he serves on the boards of the Santa Fe Green Chamber of Commerce and the Turquoise Trail Preservation Trust, supporting sustainable businesses and protecting the bioregion south of Santa Fe. Recently he initiated and co-lead a community effort that successful blocked a proposed gold mine.
_________
More About Reflective Images Jewelry
Reflective Images Jewelry was founded in 1995 under the direction of the designer, Helen Chantler, who is the Creative Director of the company in partnership with Marc Choyt, who serves as President and directs business operations. Chantler was born in England and spent her adolescent years in South East Asia. Throughout her life, she has traveled over much of the world in her quest to experience and understand rich cultures that celebrate the human journey. She has spent decades to developing her own style and techniques working sculpturally, cutting out tiny pieces of gold and silver, which she overlays, making textures to create base relief images and contemporary interpretation of ancient designs. Through her fairtade gold wedding and engagement rings and jewelry which align talismanic meaning with ethical sourcing and artisanal design, Chantler expresses her concerned for the environment and the essential beauty of traditional cultures. The new website re-launching their brand features her latest designs; she says that "Jewelry will always be more than just fashion. It is about what is essential and real and what can awaken us now to beauty and connection."
___________

For more information visit their website:

Last Updated on Friday, 04 September 2015 14:05
Hits: 1215
Last Updated on Thursday, 13 August 2015 12:41
Hits: 1087
Many of the businesses who list in our Online Directory here at www.RainbowWeddingNetwork.com, or exhibit at our LGBT Wedding Expos, have supported marriage equality for years, even decades. And some of the wedding professionals who work with us are gay or lesbian themselves, and have experienced firsthand or witnessed directly the effects of inequality and discrimination.
One of our favorite New York-based photographers, Steven Rosen, is one such wedding professional. His story is very moving, and the journey he has chosen over the past twenty years as an individual and as a photographer, is powerful and inspiring. We invite you to read the recent article with CNN, in which Steven was featured.
Our sincere congratulations, Steven! Kudos!
http://www.cnn.com/2015/07/24/us/same-sex-couples-celebrate-vows-across-nation/index.html

For additional information about Steven and his photography:
www.stevenrosenphotography.com
Last Updated on Thursday, 30 July 2015 23:37
Hits: 1137