People Exclusive: (NEW YORK) – Albert Cashier hid his identity to fight for the Union in the Civil War. Years later, however, his role in the war – and as a man – came under fire.
The new documentary series We've Been Around looks at remarkable, often little-known stories of trans people who made history.
Rhys Ernst, the Emmy-nominated director and co-producer ofTransparent, and Focus Features, the film company behind The Danish Girl, teamed up to create the series, launching exclusively onPEOPLE.com, EW.com, Essence.com and Advocate.com. (Alicia Vikander won an Oscar on Sunday for playing the wife of transgender artist Lili Elbe in The Danish Girl, now out on DVD and On Demand.)
In this video clip, a narrator tells the dramatic story of a transgender man who hid his identity for years in order to fight for his country.
"Though Albert started his life as a girl, his cropped hair and manner of dress raised no questions," the video says about a 19-year-old Cashier in 1862.
Two years earlier, Cashier was a stowaway and journeyed from Ireland to the United States to start his new life as a transgender man.
"To join the Union Army, a person had to be able to march and run," the narrator says. "You had to have a trigger finger and enough teeth to rip open a powder cartridge. You had to be a man."
Cashier joined the 95th Illinois regiment and participated in over 40 engagements, making him among the few transgender men known to have fought in the Civil War. Members of his regiment knew him as "Al" or "Little Albert" and he was considered an honorable member of the regiment.

See the full article from People for more details!
http://www.people.com/article/weve-been-around-transgender-docuseries-albert-cashier
Last Updated on Wednesday, 02 March 2016 11:18
Hits: 749
Leading Australian actress Marta Dusseldorp (A Place to Call Home, Jack Irish) shines again in the new, must-see legal drama JANET KING. As a fiercely intelligent prosecutor, her character is an extremely strong female lead that stands by her principles as she faces dangerous criminals, sexist colleagues, and corrupt policemen, while raising twin children with her wife. I highly recommend this gripping series.
"Gritty, crime-centered drama with a lesbian lead…Marta Dusseldorp is stunning...
You will fall in love with watching her wrestle principle and pragmatism…
a real and authentic depiction of a same-sex marriage" –AfterEllen
"Marta Dusseldorp is effortlessly cool as Janet King, a fully developed female character that we don't see often enough on our screens." –The Hoopla
______
Janet King makes its U.S. Premiere exclusively on Acorn TV on Mondays, March 14 through April 25.
Last Updated on Thursday, 25 February 2016 11:59
Hits: 1098
For some the idea of tackling any aspect of your wedding to do list without the aid of a professional is a daunting and often scary task. For others taking on aspects such as wedding décor and favors can be a fun de-stressor and offer welcome reprieve from the everyday stress of planning a wedding. In this week's podcast we discuss some fun and creative ideas for wedding centerpieces, lighting and more. We invite you and your partner to sit down and find your inspiration with some fun ideas we've collected from around Pinterest on our Ideas & Inspiration boards. You can find them online at http://www.pinterest.com/rwnweddings.
Last Updated on Thursday, 04 February 2016 15:31
Hits: 825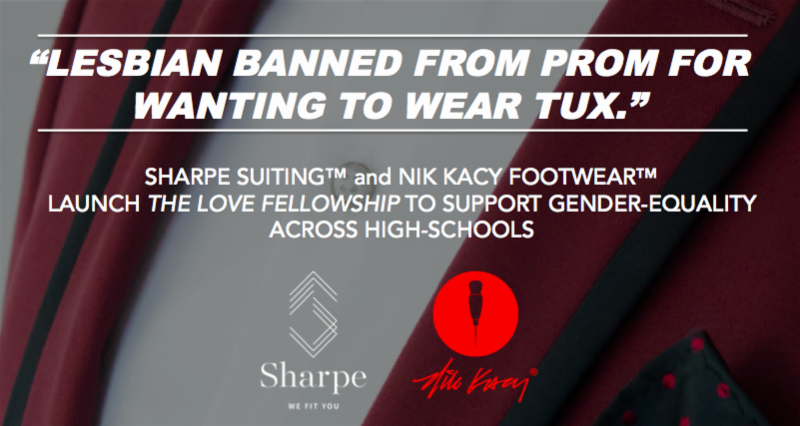 In continued support of the Lousiana senior who was refused to attend her prom in a tuxedo last Spring, SharpeSuiting and NikKacy have launched the The Love Fellowship awarding one deserving LGBTQ senior (High School) a custom head-to-toe outfit.
Participants are encouraged to share "why a unique gender expression is important" along with their vision for a perfect prom outfit via
LoveProm.Weebly.com
by February 13, 2016.
Last Updated on Monday, 18 January 2016 13:24
Hits: 912
Lovely keepsake hardcover to commemorate this year's SCOTUS decision! A great gift idea for the upcoming holiday season, perfect for your favorite happy couple, and equality advocates as well.
As Slate has reported, Justice Kennedy's words are already being quoted at wedding ceremonies across the country. This exquisitely produced, small-format volume is the perfect gift to present a couple on the occasion of their legal union. It will also be a coveted, meaningful wedding invitation or party favor for marriage festivities across the country.
______
The U.S Supreme Court Decision on Marriage Equality
as delivered by Justice Anthony Kennedy
Published by Melville House
Pub date: October 2015
ISBN 978-1-61219-532-2
U.S. $14.95 (Can. $19.50)
Hardcover / 64 pages / 5" x 7"
718-722-9204
http://www.MHPBooks.com
__
Also available in paperback.
Last Updated on Friday, 20 November 2015 10:53
Hits: 1070