Last Updated on Wednesday, 15 June 2016 12:23
Hits: 703
Here's a quick collection of ideas for your Summer Theme Wedding, Candy Buffet and Unique Cakes from this week's Podcast. Hope you have as much fun browsing our pins as we did collecting them.
_______
Here is a direct link to the podcast as well:
http://www.rainbowweddingnetwork.com/podcast/jun116.mp3
_______
All the best to you and your fiancee!
- Ira, RWN Team
Last Updated on Friday, 03 June 2016 11:21
Hits: 699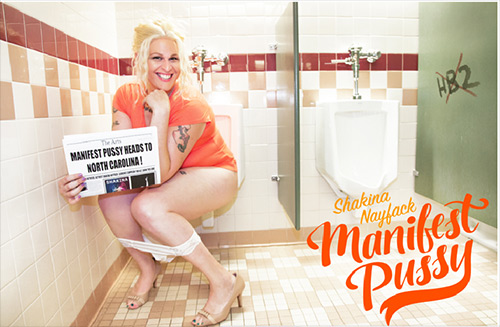 With the recent passage of North Carolina's HB2 Law, aka "The Bathroom Law," and its message of exclusion, high-profile corporations and celebrities have spoken out, canceled events or threatened sanctions if the law is not repealed. Last month, transgender actress and activist Shakina Nayfack launched a crowd funding campaign on YouCaring.com to raise money to bring her Manifest P*ssy Tour to North Carolina. With the success of the campaign and the amazing groundswell of support from local presenters and organizations, Nayfack is proud to announce the venues for her North Carolina leg of the Manifest P*ssy Tour. The tour will begin on June 11 through 19 with stops in Raleigh, Ashville, Wilmington, Charlotte, Greensboro, Chapel Hill and Durham (more stops may be added). Funds raised at these shows will be donated to local LGBT organizations. Manifest P*ssy Tour of North Carolina will be bookended by two performances at Joe's Pub at the Public Theater in New York City, June 8 and 23
Manifest P*ssy combines two solo shows, written and performed by Ms. Nayfack, ONE WOMAN SHOW, which tells the story of her life leading up to her ultimate transition, and POST-OP, which follows the six weeks she spent in Thailand before, during, and after the surgery. Both shows were originally produced by Musical Theatre Factory and premiered at Joe's Pub at the Public Theater in New York.
"We are thrilled about the outpouring of support in response to our announcing this tour. I look forward to performing in the beautiful state of North Carolina while following the law as it is currently written. In New York City, my transition has been very public and widely accepted. My shows have opened up a fantastic dialogue about what it means to transcend the gender binary, politically, socially, sexually, and spiritually. The passage of HB2 is not only hurtful, but has much wider implications than most people realize. I very much appreciate the vocal and quick actions taken by such people as Bruce Springsteen, Pearl Jam, and Stephen Schwartz and companies such as PayPal, Google and the NBA. In their strength to stand up and speak out, I find my strength to bring my story to the very place that my community is being excluded. I hope people will support this tour and help bring pride and empowerment to LGBT people and their allies in North Carolina." Actress/ Activist Shakina Nayfack
For showtimes & dates, as well as for info on the funding campaign, visit:
Last Updated on Monday, 23 May 2016 15:46
Hits: 781
To be released June 21st, in celebration of Pride - Check out the new documentary "Oriented"!

ORIENTED follows the lives of three gay Palestinian friends as they confront their national and sexual identities in modern Tel Aviv, Israel. There's Khader, a nightlife "darling" who lives with his Jewish boyfriend David. Fadi, an ardent Palestinian nationalist finds himself falling in love with an Israeli soldier. Naim, must find the courage to come out to his conservative family. Determined to change their reality, the three friends form a non-violent, cultural resistance group called "Qambuta" (Cauliflower) to advocate for sexual, ethnic and gender equality.
Be sure to look for it in June on DVD and VOD (Itunes, Indemand, Amazon, Google Play, Dish!)
Last Updated on Monday, 09 May 2016 11:06
Hits: 728
Last Updated on Tuesday, 19 April 2016 13:49
Hits: 736