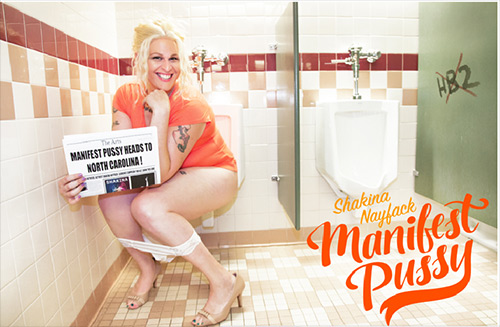 With the recent passage of North Carolina's HB2 Law, aka "The Bathroom Law," and its message of exclusion, high-profile corporations and celebrities have spoken out, canceled events or threatened sanctions if the law is not repealed. Last month, transgender actress and activist Shakina Nayfack launched a crowd funding campaign on YouCaring.com to raise money to bring her Manifest P*ssy Tour to North Carolina. With the success of the campaign and the amazing groundswell of support from local presenters and organizations, Nayfack is proud to announce the venues for her North Carolina leg of the Manifest P*ssy Tour. The tour will begin on June 11 through 19 with stops in Raleigh, Ashville, Wilmington, Charlotte, Greensboro, Chapel Hill and Durham (more stops may be added). Funds raised at these shows will be donated to local LGBT organizations. Manifest P*ssy Tour of North Carolina will be bookended by two performances at Joe's Pub at the Public Theater in New York City, June 8 and 23
Manifest P*ssy combines two solo shows, written and performed by Ms. Nayfack, ONE WOMAN SHOW, which tells the story of her life leading up to her ultimate transition, and POST-OP, which follows the six weeks she spent in Thailand before, during, and after the surgery. Both shows were originally produced by Musical Theatre Factory and premiered at Joe's Pub at the Public Theater in New York.
"We are thrilled about the outpouring of support in response to our announcing this tour. I look forward to performing in the beautiful state of North Carolina while following the law as it is currently written. In New York City, my transition has been very public and widely accepted. My shows have opened up a fantastic dialogue about what it means to transcend the gender binary, politically, socially, sexually, and spiritually. The passage of HB2 is not only hurtful, but has much wider implications than most people realize. I very much appreciate the vocal and quick actions taken by such people as Bruce Springsteen, Pearl Jam, and Stephen Schwartz and companies such as PayPal, Google and the NBA. In their strength to stand up and speak out, I find my strength to bring my story to the very place that my community is being excluded. I hope people will support this tour and help bring pride and empowerment to LGBT people and their allies in North Carolina." Actress/ Activist Shakina Nayfack
For showtimes & dates, as well as for info on the funding campaign, visit:
Last Updated on Monday, 23 May 2016 15:46
Hits: 715
To be released June 21st, in celebration of Pride - Check out the new documentary "Oriented"!

ORIENTED follows the lives of three gay Palestinian friends as they confront their national and sexual identities in modern Tel Aviv, Israel. There's Khader, a nightlife "darling" who lives with his Jewish boyfriend David. Fadi, an ardent Palestinian nationalist finds himself falling in love with an Israeli soldier. Naim, must find the courage to come out to his conservative family. Determined to change their reality, the three friends form a non-violent, cultural resistance group called "Qambuta" (Cauliflower) to advocate for sexual, ethnic and gender equality.
Be sure to look for it in June on DVD and VOD (Itunes, Indemand, Amazon, Google Play, Dish!)
Last Updated on Monday, 09 May 2016 11:06
Hits: 672
Last Updated on Tuesday, 19 April 2016 13:49
Hits: 691
People Exclusive: (NEW YORK) – Albert Cashier hid his identity to fight for the Union in the Civil War. Years later, however, his role in the war – and as a man – came under fire.
The new documentary series We've Been Around looks at remarkable, often little-known stories of trans people who made history.
Rhys Ernst, the Emmy-nominated director and co-producer ofTransparent, and Focus Features, the film company behind The Danish Girl, teamed up to create the series, launching exclusively onPEOPLE.com, EW.com, Essence.com and Advocate.com. (Alicia Vikander won an Oscar on Sunday for playing the wife of transgender artist Lili Elbe in The Danish Girl, now out on DVD and On Demand.)
In this video clip, a narrator tells the dramatic story of a transgender man who hid his identity for years in order to fight for his country.
"Though Albert started his life as a girl, his cropped hair and manner of dress raised no questions," the video says about a 19-year-old Cashier in 1862.
Two years earlier, Cashier was a stowaway and journeyed from Ireland to the United States to start his new life as a transgender man.
"To join the Union Army, a person had to be able to march and run," the narrator says. "You had to have a trigger finger and enough teeth to rip open a powder cartridge. You had to be a man."
Cashier joined the 95th Illinois regiment and participated in over 40 engagements, making him among the few transgender men known to have fought in the Civil War. Members of his regiment knew him as "Al" or "Little Albert" and he was considered an honorable member of the regiment.

See the full article from People for more details!
http://www.people.com/article/weve-been-around-transgender-docuseries-albert-cashier
Last Updated on Wednesday, 02 March 2016 11:18
Hits: 706
Leading Australian actress Marta Dusseldorp (A Place to Call Home, Jack Irish) shines again in the new, must-see legal drama JANET KING. As a fiercely intelligent prosecutor, her character is an extremely strong female lead that stands by her principles as she faces dangerous criminals, sexist colleagues, and corrupt policemen, while raising twin children with her wife. I highly recommend this gripping series.
"Gritty, crime-centered drama with a lesbian lead…Marta Dusseldorp is stunning...
You will fall in love with watching her wrestle principle and pragmatism…
a real and authentic depiction of a same-sex marriage" –AfterEllen
"Marta Dusseldorp is effortlessly cool as Janet King, a fully developed female character that we don't see often enough on our screens." –The Hoopla
______
Janet King makes its U.S. Premiere exclusively on Acorn TV on Mondays, March 14 through April 25.
Last Updated on Thursday, 25 February 2016 11:59
Hits: 1034