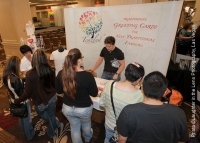 You and your fiancée (or fiancée-to-be!) will have the opportunity to mingle with a variety of LGBTQ-friendly wedding professionals in a casual and joyful atmosphere.  Tour the lovely amenities of the Wyndham Garden Dallas North, and head home that afternoon with a tote filled with fresh ideas for planning Your Special Day!
Photographers, Videographers, DJs, Caterers, Bakers, Venues, Officiants, Travel Professionals, Invitations, Jewelers, Transportation Companies & more!
WHY ATTEND? 
All of our exhibitors are LGBTQ-friendly and enthusiastically support Equality!  It's so convenient to take advantage of this opportunity to mingle and get to know a broad variety of wedding vendors all in one afternoon... and never have to wonder whether or not they uphold a policy of non-discrimination.  Saves you the challenges of cold-calling wedding vendors on your own!
The event is Free to Attend so couples are encouraged to bring friends & family to share the joy of the occasion.  Plus join us at 2:15pm for exciting giveaways and raffles! 
Use the links above to share the event on social media or click the button below to request free tickets.
We look forward to seeing you in May at the Wyndham Garden Dallas North!