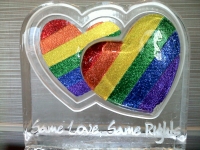 Browse, Mingle & Connect with local wedding professionals who support our community!  You & your partner will have the chance to meet Photographers, Officiants, Bakers, Caterers, Invitation Companies, Venues, Jewelers, Transportation and Travel Companies, DJs, Musicians and much more, in an atmosphere that is welcoming and relaxed.
Food Samples, Music, Trendy Tips & Insights -  Bring your wedding attendants, friends & family - we love celebrating Equality with everyone!

Plus be sure & join us for fabulous raffles at 2:15pm:  Every couple has the chance to win a 4-night romantic getaway to Mexico or the Caribbean, courtesy of Hard Rock Resorts and Lovin Away Travel!
This event is FREE to attend; just click the link below to RSVP for your e-tickets.
-THANK YOU for sharing the date with your friends via Facebook, Twitter & other social media.  We don't want anyone to miss this unique & celebratory event!
We'll see you in July at The Sheraton Omaha Hotel!

Some things to keep in mind as you plan your arrival...
Parking details & event updates will be emailed to those who RSVP - please do so by clicking the ORDER TICKETS link on this page.
It's good to arrive on time, or even a few minutes early!  Doors open to the public from 12:30pm-3:30pm.
Raffle Winners will be announced app. 2:15pm.  Every couple present has a chance to win.
This event is free; a donation of $5 is requested, to help us keep this exciting nationwide tour of Expos going strong!
Our events are family-friendly - feel free to bring your kids!
All budgets welcome
Some heterosexual couples, who wish to support Equality, also attend our events.  LGBTQ singles and allies, interested in the issues of marriage & family rights, are also more than welcome!
Questions?  Give us a call or email!  828.645.8750, 9am-5pm EST or This email address is being protected from spambots. You need JavaScript enabled to view it.
Important Note to Business Owners: Please note that there is no soliciting at this Expo.
If you are interested in exhibiting, click below for further information.  Thank you!