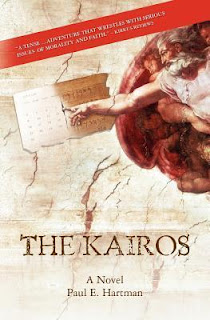 Fast-paced novel puts forth the premise that Jesus may have been gay, and sets the new evidence in a gripping tale that follows two archaeologists who uncover telling parchment fragments, 2000 years old.
"The Kairos" a novel by Paul Hartman - find it online at Amazon.com... and certainly check out Paul's recent interview below.
I had the pleasure of meeting Paul at our recent Seattle Gay & Lesbian Wedding Expo. He is a wonderful man and a gifted and insightful writer. You'll enjoy the book!
http://seattlewrote.blogspot.com/2012/08/seattle-author-capturing-and-creating.html
Last Updated on Wednesday, 15 August 2012 17:18
Hits: 1490
As I read today's headlines it's rather ironic, but not suprising to see that Protect Marriage the organization behind California's Proposition 8 is now facing scrutiny and fines of up to $49,000 from the state Fair Political Practices Commission for not properly disclosing financial contributions.
Last Updated on Tuesday, 07 August 2012 12:07
Hits: 1528
This video from GetUp! Action for Australia has been circulating the web for sometime now and has garnered a great deal of attention globally. The idea is simple shown through the eyes of one partner in a gay relationship the viewer witnesses the love that two individuals share from first meeting through life's challenges and up to the moment one partner pops the question. It is only at the end that the audience learns the couple that they have begun to emotionally invest in is a gay. Such a simply beautiful way to state the issue the same love deserves the same rights.
Last Updated on Monday, 25 June 2012 15:22
Hits: 1803