If the Federal Supreme Court takes up Proposition 8, where will that lead us? Where will it take the definition of marriage?
Certainly, the Court will rule in favor of civil rights, which means that gay and lesbian couples will win the right to marry throughout the USA. A wonderful victory, indeed!
And, it is likely that the Court will also include language that will allow religious institutions to decide for themselves whether or not they will recognize same-gender commitments.
This makes sense.
And, in my mind, this makes the victory even sweeter! -In effect ,this will be a new Federal mandate outlining the separation of church & state.
This would not be new. Right now, "marriage" by definition is a legal relationship as outlined by civil laws. There are no legally binding religious connotations. Yet a ruling by the Federal Supreme Court would cement this even more solidly within the minds of the general public.
And thus, perhaps "Civil Unions" would actually become the law of the land, rather than 'marriage'... both for LGBT couples as well as for heterosexual couples.
Hmm. Something interesting to consider.
Last Updated on Thursday, 13 September 2012 11:54
Hits: 1339
Isn't this refreshing??
Copyright 2011 Tribune Media / South FL Sun Sentinel
Last Updated on Thursday, 23 August 2012 13:51
Hits: 1486
I had the pleasure of speaking on the phone today to one of our long-time members of RainbowWeddingNetwork.com... Pastor April Gismondi of the Church of Ancient Ways. She initially joined our resources at RainbowWeddingNetwork back in 2003, and had already been officiating for gay & lesbian couples for many years prior to that. She is so enthused about supporting our community!
April is not only passionate about equal rights, she is also very knowledgeable about the logistics of putting together your ideal ceremony. If you've chosen her as your officiant, you & your guests will enjoy a spiritually meaningful and authentic celebration... and you'll also have the opportunity of benefitting from her insights about those important details such as which partner will stand on the left or right... and why it's a good choice. She'll add lightness and joy to your day as well, and and the kind of genuine support that comes from many years of experience.
As April says, she was serving gay & lesbian couples long before legal recognition - she realizes just how important the ceremony truly is for each and every couple who has waited so long for this special and historic moment.
If you are marrying in Long Island NY... be sure to consider reaching out to Pastor Gismondi! She definitely has a strong endorsement from RWN!
Click for immediate access to her RWN listing:
http://www.rainbowweddingnetwork.com/component/mtree/united-states/new-york/long-island/the-ceremony/officiants--clergy--places-of-worship/church-of-ancient-ways-pastor-april-gismondi?Itemid=
Last Updated on Wednesday, 22 August 2012 12:42
Hits: 1304
Recently I've been reminded just how far we have yet to go with regard to Equality for the LGBT community in America. There have been recent news stories, for instance, reporting heartbreaking circumstances for couples in medical situations in which one partner is not permitted to make decisions for another... And of course there's been the issues with Chick-Fil-A... And yet other news stories of gay and lesbian couples continuing to encounter blatant discrimination when meeting with wedding professionals, to the point of having to drastically alter their ceremony plans because suddenly they are informed that a particular vendor will no longer work with them, because there has just been a realization that there are 2 grooms or 2 brides.
It's true - this is unsettling. It's blatantly wrong that such intolerance continues in our country. I was speaking to a friend recently (a straight-but-not-narrow friend) who told me that he can no longer sit silent on the sidelines: he finds it appalling that political candidates can actually run on a platform that spotlights their record of discrimination... And so he is now finding ways to donate more and speak out more, because this ongoing injustice is simply unacceptable. Good for him.
What about the rest of us?? How can we boost our Action Steps?
As my partner and I have said, as witnesses to much that's gone on these past 12 years concerning the issues of marriage rights... Our community must become more cohesive. We must claim our own rights. We (and this includes our hetero- allies) must identify ourselves as a legitimate AMERICAN MINORITY and take responsibility for our own cause.
Is boycotting Chick-Fil-A productive? Sure, it allows us to vent, to gather in solidarity, to take the issue to the streets in a grassroots way that certainly helps to get our message out. What's next?
Here are some ideas:
*It's an election year. Educate yourself about the candidates, volunteer if you can for the candidates you feel most strongly about. And help to get out the vote. Many citizens may boycott the vote because they don't feel it truly makes a difference - help them understand how important one more voter really can be.
*Volunteer or donate to your local marriage rights groups, youth advocacy or LGBT community center. They are doing important work right now too, during the election cycle. They need time, money and support.
*Yes, if you are in a relationship, be sure to have your legal documents in order, including medical power of attorney. Keep this documentation on file with your primary care doctor, and a copy with your lawyer. Keep a copy in your glove compartment; keep vital phone numbers in your cell phone or in your wallet. And remember this may not protect you, so keep dialoguing with your lawyer about other protections that may be available.
*Attend one of our Gay & Lesbian Wedding Expos. We've been on tour throughout the nation for nine years, visited twenty different states and produced over 70 of these important and historic events. There are many more scheduled for the upcoming months, and app. 20 planned for 2013. While they are a fun & beautiful way for couples to plan their ceremonies... these Expos also provide a strong degree of legitimization for our minority. Imagine if each show attracted 1000 attendees - we'd have more media attention. More media attention = more face time in front of the general public, which obviously translates to a continued shift in acceptance. It's that easy.
We've witnessed great strides in the past 12 years. But there is more work to do. Let's make it happen! Equality is always the right choice, so we will prevail.
-Marianne Puechl, cofounder
RainbowWeddingNetwork.com
Last Updated on Tuesday, 21 August 2012 11:43
Hits: 1480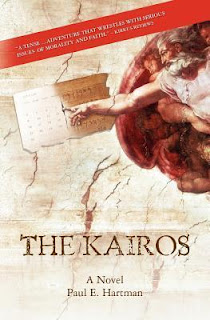 Fast-paced novel puts forth the premise that Jesus may have been gay, and sets the new evidence in a gripping tale that follows two archaeologists who uncover telling parchment fragments, 2000 years old.
"The Kairos" a novel by Paul Hartman - find it online at Amazon.com... and certainly check out Paul's recent interview below.
I had the pleasure of meeting Paul at our recent Seattle Gay & Lesbian Wedding Expo. He is a wonderful man and a gifted and insightful writer. You'll enjoy the book!
http://seattlewrote.blogspot.com/2012/08/seattle-author-capturing-and-creating.html
Last Updated on Wednesday, 15 August 2012 17:18
Hits: 1548